First Dental Visit to Accolade Dental
Our team at The Accolade Dental Centre always welcomes new patients to our Yorkville dental office. Learn more about what to expect at your first visit to our Yorkville office.
---
What to expect at your first appointment
At The Accolade Dental Centre, our philosophy is to educate and inform our patients. 
We work with you to create custom treatment plans to help ensure your overall oral health needs are met and your whole mouth stays healthy and smiling.
Your first appointment will take about an hour. You will meet with your dentist, who will review your current oral health status and address any concerns you have.
Your dentist will then examine your whole mouth including your teeth and gums.
Then they will develop a treatment plan – which may include X-rays, preventative hygiene, or fillings.
Your treatment plan is developed just for you, based on your oral health needs and concerns.
We encourage open communication with all our patients.
We believe it's important that you fully understand your treatment plan and options, and that we have a complete picture of your oral health needs and concerns.

If you ever have any questions for your dentist, specialist, hygienist or any of our team members we are more than happy to take the time to answer them!
We recommend that you arrive 15 minutes early for your appointment.
This will give you time to fill out the new patient form and enjoy our welcoming lounge, complete with Netflix, coffee and ice water.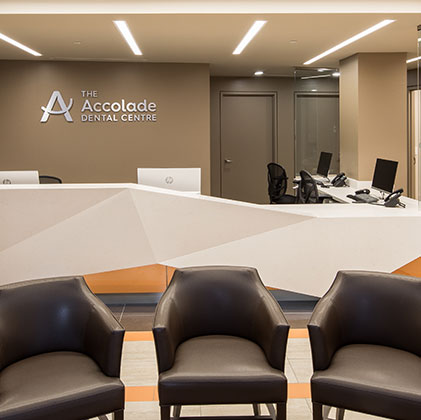 Insurance
We accept most insurance plans. Please bring your insurance information with you to your first appointment and our team will submit your treatment details to your insurance company directly.
Cancellation Policy
Our team will contact you with a reminder for each appointment. However, it is your responsibility to arrive on time for your appointments.
Your appointment has been reserved especially for you. If you are unable to keep your appointment, we ask for two business days notice to avoid a cancellation fee.