CEREC Technology in Yorkville Toronto
CEREC technology allows our Yorkville patients to complete dental restorations, like crowns or veneers, in just one visit. We fit, design, and create your custom restoration in our Yorkville office in just one day. 
---
What is CEREC?
CEREC stands for CERamic REConstruction.
It's a specialized machine that allows our dentists to design and build ceramic dental restorations like crowns, veneers, bridges and inlays and onlays in one visit at our Yorkville dental clinic.
The CEREC technology allows us to build your custom restoration in one visit, without the need for temporary fillings or crowns.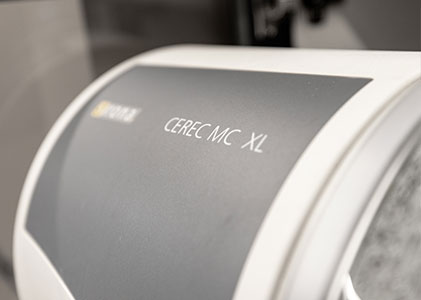 CEREC Technology in Yorkville: How Does it Work?
The CEREC system uses computer-aided design and manufacturing to allow our dentists to create your ceramic restoration.
First, a 3D scan is taken of your mouth (no messy or unpleasant physical impressions are needed). The image is sent to a computer where, aided by the CEREC technology, your dentist designs your new restoration.
That custom design is then sent to the CEREC machine, where it is milled from ceramic material custom shaded by your dentist to match your natural teeth using high-tech diamond-coated instruments.
Once the restoration or tooth is completed, it can be polished and cemented in place.
How long does a CEREC appointment take?
In general, the custom restoration can be built in about 3 hours. While this may seem like a long appointment, you aren't confined to the dentist's chair the whole time. 
You are free to enjoy our reception lounge – complete with Netflix, and complimentary wifi. 
And because the procedure is completed in one visit, unlike traditional restorations, there's no need for a second appointment to cement the permanent restoration in place.