Dental Implants in Yorkville
At The Accolade Dental Centre in Yorkville, we offer dental implants to replace missing teeth and help improve the appearance and function of your smile. 
---
What are dental implants?
A dental implant is a small screw that is placed in your jawbone and acts as an artificial tooth root can be used to support artificial teeth like crowns, bridges and dentures.
Dental implants are made from titanium, which is biocompatible, meaning it integrates well with your body's tissues well.
What are the benefits of dental implants?
They can help minimalize the appearance of ageing by maintaining jaw bone levels.
With dental implants, your dentist doesn't have to involve adjacent teeth in the treatment of missing or damaged teeth.
Dental implants provide a secure anchor for crowns, bridges or dentures.
Dental implants can improve the function of your teeth – allowing for more effective chewing and speaking.
Dental implants open up a variety of treatment options, to help your smile look, feel and function the way to you want it to.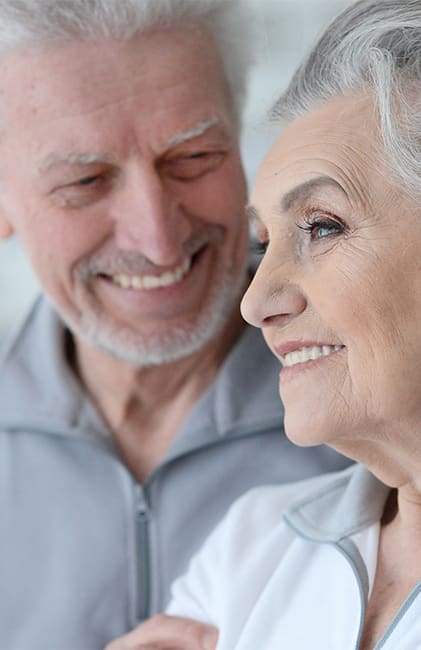 Dental Implants in Yorkville
Enjoy the look, function and feel!
At The Accolade Dental Centre, Dr. Jack Slome and our team of dentist and dental professionals are always learning about the latest offerings and technology to be able to give out patients surgical and restorative components that best suit their esthetic and functional needs.
If you would like to learn more about dental implants, or to discuss the costs of a dental implant, call our team today.
What's involved in getting a dental implant?
The first step is a consultation with one of our Toronto dentists. They will listen to what you want to achieve, and begin to formulate a treatment plan.
To get a complete picture of the problem and treatment options, the dentist will perform a clinical examination.
This examination will include x-rays (at our Yorkville practice, we use digital x-rays to aid in our diagnosis and treatment plans).
The implant is surgically placed in your jaw. The dentist will use a local anesthetic, and our team is committed to making sure your procedure is a comfortable as possible.
Before your oral surgery our team will walk you through the procedure and what steps are taken to reduce pain.
After the surgery, the bone needs to heal. This period of healing is called osseointegration and it lets the jawbone to heal and integrate the implant into the bone.
You may need a temporary restoration during this period, which our dentist will discuss with you.
Once your jaw has healed, your dentist will place the new crown, bridge or denture.